A Collection in
the Montgomery County (Va.) Circuit Court
Chancery Records Index: 1773-001-1912-065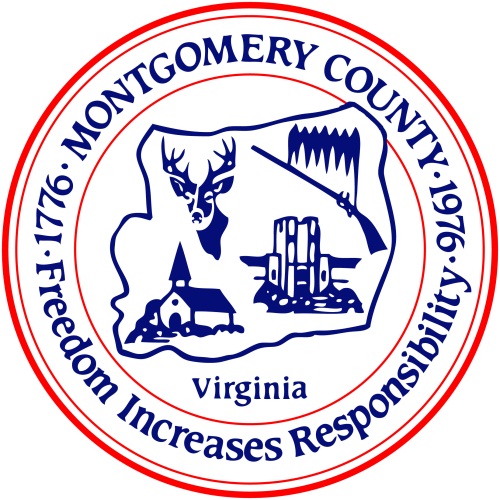 Montgomery County (Va.) Circuit Court
Montgomery County Circuit Court
55 East Main Street, Suite 1
Christiansburg, VA 24073
Phone: (540) 382-5760
© 2016 By the Montgomery County (Va.) Circuit Court. All Rights Reserved.
Processed by: Sarah Nerney, Regan Shelton, and Scott Gardner
Repository
Montgomery County (Va.) Circuit Court
Chancery Records Index
1773-001-1912-065
Title
Montgomery County (Va.) Chancery Causes, 1773-1912
Physical Characteristics
Digital images
Collector
Montgomery County (Va.) Circuit Court
Location
Montgomery County (Va.) Circuit Court
Language
English
---
Access Restrictions
Digital images of Montgomery County Chancery Causes for the years 1773-1912 are available on the Library of Virginia's Chancery Records Index .
Use Restrictions
There are no restrictions.
Preferred Citation
Montgomery County (Va.) Chancery Causes, 1773-1912. (Cite style of suit and chancery index no.) Montgomery County Court Records. Montgomery County (Va.) Circuit Court. Christiansburg, VA 24073.
Acquisition Information
These records were filed at the Montgomery County (Va.) Circuit Court during the course of court business.
Montgomery County was formed from Fincastle County in 1776, and the county court first met on 7 January 1777. Part of Botetourt County was added in 1790. Part of Pulaski County was added in 1842. The county was named for Richard Montgomery, who was killed in the American assault on Quebec late in 1775.
Fincastle County was created from Botetourt County in 1772, and the county court first met on 5 January 1773. Fincastle County became extinct on 31 December 1776 when it was divided to form Montgomery, Washington and Kentucky Counties. The county was named probably for George, Viscount Fincastle, Lord Dunmore's son; for John Murray, fourth earl of Dunmore, Viscount Fincastle; or for the town of Fincastle, Virginia, which was established in 1772 and named for George, Viscount Fincastle.
Montgomery County (Va.) Chancery Causes, 1773-1912, are indexed into the Chancery Records Index . Cases are identified by style of suit consisting of plaintiff and defendant names. Surnames of others involved in a suit, including secondary plaintiffs and defendants, witnesses, deponents and affiants, and family members with surnames different from the plaintiff or defendant are indexed. Chancery causes often involved the following: divisions of estates or land, disputes over wills, divorces, debt, and business disputes. Predominant documents found in chancery causes include bills (plaintiff's complaint), answers (defendant's response), decrees (court's decision), depositions, affidavits, correspondence, lists of heirs, deeds, wills, business records, or vital statistics, among other items. Plats, if present, are noted, as are wills from localities with an incomplete record of wills or localities other than the one being indexed.
Chancery causes are useful when researching local history, genealogical information, and land or estate divisions. They are a valuable source of local, state, social, and legal history and serve as a primary source for understanding a locality's history.
Organized by case, of which each is assigned a unique index number comprised of the latest year found in case and a sequentially increasing 3-digit number assigned by the processor as cases for that year are found. Arranged chronologically.
Arrangement of documents within each folder are as follows: Bill, Answer, and Final Decree (if found.)
Post-1913 Montgomery County chancery causes available at the Montgomery County Circuit Court.
See the Chancery Records Index found on the Library of Virginia web site for the chancery records of other Virginia localities.
Corporate Names:

Montgomery County (Va.) Circuit Court.

Subjects:

African Americans--History.
Business enterprises--Virginia--Montgomery County.
Debt--Virginia--Montgomery County.
Divorce suits--Virginia--Montgomery County.
Equity--Virginia--Montgomery County.
Estates (Law)--Virginia--Montgomery County.
Land subdivision--Virginia--Montgomery County.
Slaves--Virginia--Montgomery County.

Geographical Names:

Montgomery County (Va.)--Genealogy.
Montgomery County (Va.)--History.

Genre and Form Terms:

Chancery causes--Virginia--Montgomery County.
Deeds--Virginia--Montgomery County.
Judicial records--Virginia--Montgomery County.
Land records--Virginia--Montgomery County.
Local government records--Virginia--Montgomery County.
Plats--Virginia--Montgomery County.
Wills--Virginia--Montgomery County.
---
Montgomery County (Va.)--Genealogy.
Montgomery County (Va.)--History.
1781-001: John Thompson Sayers vs. John Wylie by etc:
References Native Americans.
1799-020: William Ingles vs. Exrs of James Patton etc:
References Native Americans and land in Burkes Garden area.
1802-004: William Sayers vs. William Buchanan; Alexander Sayers etc by etc vs. James McGavock etc; James McGavock vs. Alexander Sayers etc:
References Native Americans and Colonel Montgomery and his march to Illinois.
1804-013: Bird Smith and wife, etc vs. James Thompson etc:
References Burkes Garden and Native Americans.
1807-014: Nanny Pegee, an enslaved person, etc vs. John Hook etc.:
Freedom suit. See also Franklin Co.]unty judgments 1808 April Nanny Pegee etc vs. John Hook and Zachariah Stanley. Suit originated in Montgomery County, ended in Franklin County then appealed beyond. Pegee and family achieved freedom. See finding aid for Franklin County suit: http://ead.lib.virginia.edu/vivaxtf/view?docId=lva/vi03107.xml
1815-006: Rachel Viney, an enslaved person, etc vs. Henry Patton:
Freedom suit. Plaintiff claimed to be descended from Native Americans. Cause originated in Northumberland County.
1818-004: Reed Wright vs. Lawson Dunnington:
Wright hired out an enslaved person slave named Venus to Dunnington and after terms of contract, Venus is to be freed. Dunnington planned to leave the state which Wright sought to prevent so as to ensure that his hire arrangement and eventual freedom of Venus is assured.
1826-005: Ruth, an enslaved person, etc. vs. James Sallust:
1815-011: Edward Carrington, etc. vs. Admr. of Isaac H. Coles, etc.:
In his 1814 will, Isaac H. Coles left his two estates, Dan River estate and Bucksin property, and the slaves that worked the properties to two different heirs. Estate dispute arose over which slaves worked at which estate. Extensive list of slaves includes names, ages, occupations, and locations.
1839-004: Joab Early, etc. vs. Heirs of William Akers:
Cause involves Joab and Henry Early, sons of Jubal Early; case originated in Franklin County in 1836. Brothers are suing for debt owed to them via their father's estate. Joab Early is the father of Confederate officer Jubal Early. Cause involves slaves as part of property in dispute.
1847-010: Jacob Price vs. Adm. of Thompson Price:
Cause moved from Botetourt County in 1843 because the judge acted as counsel in Botetourt. Dispute over estate which includes estimates of upkeep for enslaved person Sylvia and her increase. Records included for her children with approximate birthdates and hire records for Sylvia and several of the children. Also includes bill of sale for enslaved persons and the name of purchasers dated Oct. 10, 1842.
1848-002: John Craig vs. Robert Harvey:
Craig requested an injunction to prevent opening of new stone quarry (for construction of Turnpike Road) because 2 existing quarries are an immediate danger to his family and enslaved personss, due to falling rocks. Shared incidents which have already occurred. Claimed the new quarry would mean his blacksmith shop would be "blown to bits." Injunction issued but case dismissed once settlement reached.
1848-016: Letitia Floyd vs. Executors of Elizabeth Madison:
Floyd is the wife of a former Virginia governor John Floyd and the mother of another John B. Floyd. She is bringing suit over her mother's estate (Susanna Preston) and legacy owed to her. Letitia's brother James Patton Preston, also served as governor and the Preston family created Smithfield Plantation. Elizabeth Madison was the administratrix and daughter of Susanna Preston (widow of Colonel William Preston) and the case includes an evaluation of items offered to legatees or for an estate sale from Susannah's estate circa 1826.
1849-002: Joseph Deyerle, etc. vs. Adm. of Abner Early:
Estate dispute includes mention of several enslaved persons and depositions describing several of them and estimating their value for sale and hire. A deponent Charles Thomas estimated the cost of maintaining Arthur, an enslaved person described as "an old blind creature." Deposition by Jacob Bott indicates that Arthur's son was Mingo who "supported his father." Commissioner's report includes hire amounts received and also allowance permitted estate for keeping "old Arthur." Also records purchasers of slaves sold and moved "west" by Nicholas Bagwell
1853-011: Unis alias Eunice, an enslaved person, etc. vs. Admrs of James Charlton etc.; Phillis, an enslaved person, etc. vs. Admrs of James Charlton etc.; Randall, an enslaved person, vs. John Swope; Rhoda Ann, an enslkaved person, vs. Admrs of William Currin:
Freedom suits heard together for the most part. Causes traveled around to several localities including Giles, Rockbridge, and Roanoke counties in addition to higher appeals courts. Causes hinged on descent from common ancestor Flora, and enslaved person, who was "carried off from Massachusetts," freed in Connecticut, then sold illegally into slavery from New York. This account is disputed by other deponents. There was question about whether she was illegally imported into Virginia as a slave. Many depositions from state of Massachusetts. Cases include letter from clerk of Roanoke County saying that he feels some of the papers in causes may have been deliberately mislaid. Plaintiffs do not seem to have achieved their freedom. Decision may have turned on legal technicalities of non-importation oaths and authorized/non-authorized depositions. See published opinions in Grattan's Virginia Reports. Appeal files stored at West Virginia state archives - Virginia Court of Appeals at Lewisburg MS79-83.
1853-005: Tarlton P. Smith vs. James P. Preston, etc.:
Cause involving possession and potential sale of Solitude, a farm located at Virginia Tech, oldest building on campus. Cause also contained will from city of Richmond of Granville Smith and distribution of his slaves to his wife and children.
1858-017: John B. Helm, etc. vs. Stephen D. Boyd, etc.:
Includes patents from U.S. Patent Office for "Telegraph Water Carrier" and comparable invention; case involves dispute over ability to market patent in southwestern Virginia.
1864-004: Orange and Alexandria Railroad Company vs. Robert S. Newlie, etc.:
Includes 2 related cases in which railroad company asks for injunction to prevent local impressment agent from impressing wheat owned by the company (purchased from local farmers). Local agent wants to use wheat to provide food for indigent wives and children of Confederate soldiers in the county; railroad company needs grain to feed enslaved people and free African Americans working on rail line. Complaint by company also indicates that the agent used armed force to impress grain.
1864-005: James P. Hammet vs. General John C. Breckinridge:
Hammett requests injunction to prevent Confederate army warehouse from being built on his property in Central Depot (Radford). Includes answer from Major General John Breckinridge and engineer's report with plat of land in question.
1864-009: Lewis F.J. Amiss, etc. vs. Major Thomas L Brown:
Request for injunction to prevent Confederate Quartermaster from seizing garden to use for the Confederate Hospital at White Sulphur Springs in Montgomery County. Injunction was granted.
1868-009: Charles C. Lee vs. George W. Barnett, etc.:
Cause takes place during Reconstruction and contains numerous depositions from Montgomery, Roanoke, and Wythe county residents who are testifying to land values in the area and the postwar economy.
1879-002: John Grayson vs. Admr. of John Little:
Cause includes depositions which discuss the price of whiskey during the Civil War and also the value assigned to slave labor in building the distillery business. Daniel, a enslaved person of John Grayson, explains in deposition his role in the business and has surname Hopkins after the war.
1882-037: Jesse A. Miller, etc. vs. Heirs of John Miller; Jesse A. Miller, etc. vs. William E. Stone, etc.:
Cause contains information on prewar distribution of enslaved persons by John Miller to his sons and daughters; he habitually gifted enslaved persons to his children as advances on their inheritance and the larger case is an estate dispute over the value of gifts to children in advance of his death. Discusses value of enslaved persons and when they were distributed. Also mentions Shephard (Sheppard), a former enslaved person of Miller's who works as a tenant farmer on Miller land in the postwar period.
1883-026: J. Lawrence Radford vs. William Wallace:
Cause from Radford (Central Depot) in which plaintiff asks for injunction to prevent a house on his property from being used as a hospital for smallpox patients.
1884-009 R. J. Foster and Company vs. Henry E. Decie:
Debt cause which references enslaved persons and debts accrued during the Civil War. Cause originates with merchant in Richmond and the defendant is Henry Edward Decie, who may have sold a yacht, the America to the Confederacy and then served as its captain running the blockade during 1861. He also may have been a con-artist and has considerable debts to local citizens as well as Foster. Auction schedule is extensive and offers view of the size of his estate.
1886-033: Nannie Kent, etc. vs. Elizabeth Gibboney, Exx, etc.:
Cause includes information on the settlement of Captain Jacob Kent's estate (Kentland and other land as well as enslaved persons and stock in Montgomery White Sulphur Springs). 1859 appraisement list of enslaved persons divided them into family groupings and several with surnames (King, Campbell, Bratton, Power, Williams). Several pieces of evidence also include references to fact that Kent's heirs wanted to avoid a public sale of enslaved persons and preferred the land be sold instead. Cause brought against wife (Elizabeth Gibboney) of deceased administrator (Robert Gibbony) fifteen years after the settlement of the estate. Internal reference to sale of enslaved persons held on August 27, 1858. See also chancery cause 1880-028.
1893-002: Matilda M. Roat by etc vs. Charles I. Wade, gdn:
Matilda wishes to use estate funds to attend Marion Female Academy. Deposition references what she has studied, what she will study, why she wants to continue her education in spite of previously being trained in the trade of dressmaker.
1895-022: Gdn of James Warren Barnett etc vs. James Warren Barnett etc.:
This cause sheds more light on the development of a city in Montgomery County. Big Spring was the name of the area where the city was to be developed. The company developing the site was the Pittsburgh Development Company, and they were going to name it Carnegie City. The company turned into the Elliston Development Company.
1900-038: M.E. Walters by etc vs. James Walters:
Divorce suit that delves into issues of drug (morphine or opium) abuse and domestic abuse of both spouse and children.
1901-056: E.A. Saunders and Sons, etc. vs. George Washington, etc.:
Commissioners report makes mention of land belonging to George Washington that sits adjacent to "Methodist E. Church (South) Cemetery." Sections of adjoining lands had been sold for burial of African Americans, and Montgomery County seeks land for burial of the poor.
1903-012: Nannie Argabright vs. Alice Baker etc.:
Legal point of suit turns on whether James F. Martin and Ida Baker Martin had a living child or one born dead. Many depositions center on her pregnancy and premature birth which resulted in the death of both her and the child and then what happened to the child after its death.
1903-034: Mollie L. Garrison vs. William Garrison:
Divorce case in which main reason for divorce is desertion based on fact William Garrison is on the run for rape and attempted murder. Case contains broadside from Roanoke City offering reward for his capture.
1904-040: A.L. Johnson vs. D.G. Barnitz:
Cause is an injunction against construction of a water gate. The depositions provide information about downtown Christiansburg in the early 1900s. They provide descriptions of buildings and terrain, including the presence of a stream running through town. They also reference a fire that consumed many town buildings.
1912-031: J.S.Clingenpeel etc vs. W.W. Gray etc; Friends' Freedmen's Association vs. J.S. Clingenpeel etc:
Cause concerns debts incurred to the various contractors responsible for construction at the Christiansburg Industrial Institute, founded after the Civil War to aid African American students.
1912-042: Agnes Schaub by etc vs. Floyd Schaub:
Divorce. Agnes ran off to Bristol at 15 to get married. She and her husband Floyd moved around, ending up in Switchback, West Virginia in a coal camp. Husband "was more fiend than man" and left her to her own devices when she came down with typhoid. But for the intervention of the Hungarians in the camp, she would have died. Deposition by her mother mentions Italians and African americans in the camp.