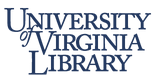 Albert and Shirley Small Special Collections Library
Albert and Shirley Small Special Collections Library
P.O. Box 400110
University of Virginia
Charlottesville, Virginia 22904-4110
URL:
https://small.library.virginia.edu/
Sharon Defibaugh
Repository
Albert and Shirley Small Special Collections Library
Identification
MSS 16413
Title
George Washington Lewis papers1805-1906, 1966
URL:
Quantity
.75 Cubic Feet, 2 boxes; 1 legal document box and 1 half-size legal document box., Roughly 0.75 cubic feet of material
Condition Description
Good.
Creator
Lewis, George Washington, 1804-1879
Language
English .
---
Conditions Governing Use
This collection is open for research.
Preferred Citation
George Washington Lewis papers, MSS 16413, Albert and Shirley Small Special Collections Library, University of Virginia, Charlottesville, Virginia.
Immediate Source of Acquisition
This collection was given to the University of Virginia Special Collections Library by Betty Works Fuller, a descendant of George Washington Lewis, on April 5, 2018. These papers were received by Lucy Robb Winston Works (1916-2016) from several members of her family and she preserved them as a collection.
---
Judge George Washington Lewis (1803/4-1879) was born at "Shellfield," Colonial Beach, Virginia, and died at "Claymont," Westmoreland County, Virginia, the son of Samuel Lewis (1780-1840) and Sarah Attaway Miller (1785-1822) and grandson of George Lewis (1757-1821) and Catherine Daingerfield (1784-1820). Lewis was a lawyer, educated at the University of Virginia. He was married first to Jane Brockenbrough Lewis (1810-1849) and they had six children: Anna Louisa Lewis (1830-1897); Henry Bankhead Lewis (1831-1862); Dr. Thomas M. Lewis (1833-1910); Samuel Lewis (1836-1849); Robert Byrd Lewis (1841-1897) and Lucy Pratt Lewis Funsten (1844-1909). His second wife was Lucy Anne Robb (1823-1891) and they had two children, Jane Vivian Lewis Long (1858-1931) and Alice Maria Lewis Wallace (1861-190).
The George Washington Lewis papers consists chiefly of correspondence to and from George Washington Lewis and between other family members, but also includes a few photographs of the Lewis family and the homes of "Claymont", "Shellfield" and "Marmion"; a plat of "Claymont"; newsclippings; notes on Lewis family history and genealogy; and a few financial and legal documents.
The collection has been arranged in two series, Correspondence and the Lewis family miscellany files. The correspondence is arranged alphabetically by the last name of the correspondent.
Lewis family
Manuscripts (documents)
Politics and government
Slavery--United States -- Virginia
Slavery--United States--History--19th Century
Whig Party (Va.)
enslaved persons
enslavement
letters (correspondence)
photographs
---
This material contains racist language or imagery. The purpose of this note is to give users the opportunity to decide whether they need or want to view these materials, or at least, to mentally or emotionally prepare themselves to view the materials. For archival materials, more specific information about these materials may be available in the finding aid.
Lewis, George Washington, 1804-1879