A Collection in the
Special Collections Research Center
Accession Number Mss. Acc. 2008.146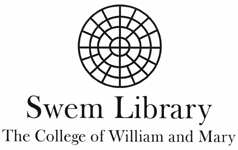 Earl Gregg Swem Library, College of William and Mary
Special Collections
Earl Gregg Swem Library
College of William and Mary
Williamsburg, Virginia 23187-8794
USA
Phone: (757) 221-3090
Fax: (757) 221-5440
Email:
spcoll@wm.edu
URL:
http://swem.wm.edu/scrc/
© 2010 By the College of William and Mary. All rights reserved.
Repository:
Special Collections Research Center
Identification:
01/Mss. Acc. 2008.146
Title:
Infantry Order Book 1813-1815
Quantity:
0.10
Creator:
Charlton, James (Captain) arrangement
Language of Materials
The papers are in: English
Abstract:
Dealer Description:
---
Conditions Governing Access
Collection is open to all researchers.
Conditions Governing Use
Before publishing quotations or excerpts from any materials, permission must be obtained from the Special Collections Research Center, and the holder of the copyright, if not Swem Library.
Preferred Citation
Infantry Order Book, Special Collections Research Center, Swem Library, College of William and Mary
Acquisition Information
The materials were acquired by Special Collections Research Center on 00/00/2008.
James Charlton was a Captain in the 12th United States Infantry during the War of 1812. Infantry organized in Virginia. Further information about this individual or organization may be available in the Special Collections Research Center Wiki
Dealer Description:
Orderly Book from Captain James Charlton's Company, 12th United States Infantry, during the War of 1812. Records muster rolls, returns, morning reports in one section and regimental, brigade and divisional general orders in another section.
Capt. Charlton's company was recruited primarily from the back county of Virginia (43 soldiers), Pennsylvania (6), Maryland (4), and North Carolina (11). Against the name of each soldier is recorded his home county, date and term of enlistment, enlisting officer, occupation, age, height, hair and eye color, complexion and build. Individual entries made for each soldier record types of equipment, including clothes, arms, and "accoutrements," that were issued, with dates of issuance. Four pages record abstracts of morning report roll calls during a November-December, 1813 encampment at Sackets Harbor.
The general orders include records of promotions, leave, transfers and other daily activities in the unit, along with extensive records of courts martial and instructions for conduct in various situations, all as issued through various adjutant general staff through the command structure.
Two sections are organized so each can be read from one cover to the middle of the volume.
Genre/Form of Material:

Infantry Order Books

Title:

United States. Army. Infantry Regiment, 12th

Topical Term:

United States--History--War of 1812
Virginia--Militia--History--War of 1812.
---
Charlton, James (Captain)