A Collection in the
Manuscripts and Rare Books Department
Accession Number Acc. 2010.779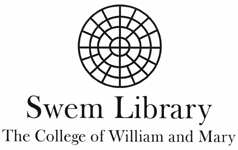 Earl Gregg Swem Library, College of William and Mary
Special Collections
Earl Gregg Swem Library
College of William and Mary
Williamsburg, Virginia 23187-8794
USA
Phone: (757) 221-3090
Fax: (757) 221-5440
Email:
spcoll@wm.edu
URL:
http://swem.wm.edu/scrc/
© 2006 By the College of William and Mary. All rights reserved.
Processed by: Special Collections Staff
Repository
Special Collections, Earl Gregg Swem Library, College of William and Mary
Accession Number
2010.779
Title
Muriel McCormick Papers circa 1930s-1940s
Extent
3.6 Cubic Feet
Creator
McCormick, Muriel
Location
Special Collections Research Center
Language
English
---
Access Restrictions
Collection is open to all researchers.
Use Restrictions
Before reproducing or quoting from any materials, in whole or in part, permission must be obtained from the Special Collections Research Center, and the holder of the copyright, if not Swem Library.
Preferred Citation
Muriel McCormick Papers, Accession #Acc. 2010.779, Special Collections Research Center, Swem Library, College of William and Mary.
Acquisition Information
This collection was purchased on 1/14/2011
Processing Information
Accessioned and minimally processed by Benjamin Bromley in January 2011. Physically and intellectually arranged by SCRC staff member Leigh Soares in March 2011.
Diaries and photographs, circa 1930s-1940s, of Muriel McCormick. McCormick was a staff member at the United States embassy in Paris, France, from 1945-1946, and much of the collection chronicles her travels through Europe.
Subjects:

France--Description and travel--20th century.
Women travelers--Diaries
Women--Diaries.
Women--Travel
World War, 1939-1945--Diplomatic history--Sources
World War, 1939-1945--European Front
Young women--Diaries

Genre and Form Terms:

Diaries
Photographs
---
France--Description and travel--20th century.
Series 1: Diaries and Letters 1937-1949
This series consists chiefly of five diaries left by Muriel McCormick, dated from 1937 to 1947. They follow her time as a high school student in Stamford, Connecticut, a young adult working in Washington, D.C., a staff member of the United States embassy in Paris, France, and then as a newlywed woman back in the U.S. Among the everyday details of her life are discussions about her aspirations, relationships, hobbies, and travels, as well as national or international news. Two of the diaries had photographs tucked inside the pages, but they have been removed and housed with the photograph series. Although the earliest diary has some water damage, the others are in fairly good condition. Additionally, the series includes an undated envelope which Muriel presumably used to send photographs to a studio for development after her time in Europe.
Series 2: Photographs circa 1940s
The collection also includes a large series of photographs. The majority of the series is arranged chronologically to trace Muriel McCormick's journey from Connecticut to Washington, D.C., to Paris and back to the U. S. While stationed at the embassy in Paris for over a year, she made several trips throughout Western Europe, taking hundreds of photographs of the places she visited. She labeled many of her photographs meticulously with dates and locations, but there is still a large group of unidentified landscapes that can be found here. When traveling as a tourist, she often also purchased packaged sets of souvenir images which are included throughout the series. Lastly, there are dozens of photographs with people as their main subjects. These include pictures of Muriel, her eventual husband, Ramon Hall, their families, and friends.
Box-folder 1:1

North Stamford and Shelton, Connecticut undated

Box-folder 1:2

Washington, D.C. 1942

Box-folder 1:3

Fort Belvoir and Mt. Vernon, Virginia June 1942

Box-folder 1:4

Baltimore, Maryland August 1942

Box-folder 1:5

Stock Images: Baltimore, Maryland

Box-folder 1:6

Paris, France undated

Box-folder 1:7

Packaged Photographs, Paris

Box-folder 1:8

Barbizon, France November 1945

Box-folder 1:9

Bern, Switzerland December 1945

Box-folder 1:10

Packaged Photographs, Bern

Box-folder 1:11

Scheidegg and Interlaken, Switzerland December 1945

Box-folder 1:12

Packaged Photographs, Basel

Box-folder 1:13

Gstaad, Switzerland December 1945

Box-folder 1:14

Packaged Photographs, Chillon

Box-folder 1:15

Packaged Photographs, Geneva

Box-folder 2:1

Brussels, Belgium December 1945

Box-folder 2:2

Packaged Photographs, Brussels

Box-folder 2:3

Stock Images: Waterloo, Belgium

Box-folder 2:4

Packaged Photographs, Waterloo

Box-folder 2:5

Packaged Photographs, Antwerp

Box-folder 2:6

Packaged Photographs, Antwerp

Box-folder 2:7

Packaged Photographs, Antwerp

Box-folder 2:8

Reims, France December 1945

Box-folder 2:9

Chartres, France March 1946

Box-folder 2:10

French Riviera March 1946

Box-folder 2:11

Packaged Photographs, Cote d'Azur

Box-folder 2:12

Monte Carlo, Monaco March 1946

Box-folder 2:13

Sceaux, France May 1946

Box-folder 2:14

Normandy, France June 1946

Box-folder 2:15

Stockholm, Sweden June 1946

Box-folder 3:1

Packaged Photographs, Stockhom

Box-folder 3:2

Packaged Photographs, Stockhom

Box-folder 3:3

Denmark undated

Box-folder 3:4

Packaged Photographs, Voldenam

Box-folder 3:5

Bremen, Germany July 1946

Box-folder 3:6

Frankfurt, Germany July 1946

Box-folder 3:7

Hitler's Window, Bavarian Alps undated

Box-folder 3:8

Chartres, France July 1946

Box-folder 3:9

Packaged Photographs, Chartres

Box-folder 3:10

Packaged Photographs, Malmaison

Box-folder 3:11

Loire Valley, France (Day 1) July 1946

Box-folder 3:12

Loire Valley, France (Day 2) July 1946

Box-folder 3:13

Loire Valley, France (Day 3) July 1946

Box-folder 4:1

Packaged Photographs, Chenonceaux

Box-folder 4:2

Packaged Photographs, Milan

Box-folder 4:3

Packaged Photographs, Milan

Box-folder 4:4

Packaged Photographs, Milan Cathedral

Box-folder 4:5

Packaged Photographs, Venice

Box-folder 4:6

Florence, Italy October 1946

Box-folder 4:7

Packaged Photographs, Florence

Box-folder 4:8

Packaged Photographs, Florence

Box-folder 4:9

Packaged Photographs, Florence

Box-folder 4:10

Capri, Italy October 1946

Box-folder 4:11

Packaged Photographs, Capri

Box-folder 5:1

Rome, Italy October-November 1946

Box-folder 5:2

London, England November 1946

Box-folder 5:3

Packaged Photographs, London

Box-folder 5:4

Packaged Photographs, Stratford-upon-Avon, England

Box-folder 5:5

Packaged Photographs, Anne Hathway's Cottage

Box-folder 5:6

Packaged Photographs, Shakespeare's Birthplace

Box-folder 5:7

Packaged Photographs, New Place Museum

Box-folder 5:8

York, England November 1946

Box-folder 5:9

Packaged Photographs, Edinburgh

Box-folder 5:10

Packaged Photographs, Dublin

Box-folder 5:11

Mountainous Regions, The Virginias January 1947

Box-folder 6:1

Unidentified Landscapes circa 1940s

Box-folder 6:2

Unidentified Landscapes circa 1940s

Box-folder 6:3

Unidentified Landscapes circa 1940s

Box-folder 6:4

Unidentified Landscapes circa 1940s

Box-folder 6:5

Unidentified Landscapes circa 1940s

Box-folder 6:6

Unidentified Landscapes circa 1940s

Box-folder 6:7

Unidentified Landscapes circa 1940s

Box-folder 7:1

Unidentified Landscapes circa 1940s

Box-folder 7:2

Unidentified Landscapes circa 1940s

Box-folder 7:3

Unidentified Landscapes circa 1940s

Box-folder 7:4

Unidentified Landscapes circa 1940s

Box-folder 7:5

Unidentified Landscapes circa 1940s

Box-folder 7:6

Unidentified Landscapes circa 1940s

Box-folder 7:7

Unidentified Landscapes circa 1940s

Box-folder 7:8

Unidentified Landscapes circa 1940s

Box-folder 8:1

Unidentified Images from Packaged Sets

Box-folder 8:2

Unidentified Packaged Set (#1-20)

Box-folder 8:3

Unidentified Packaged Set (#21-40)

Box-folder 8:4

Unidentified Packaged Set (#41-60)

Box-folder 8:5

Muriel McCormick undated

Box-folder 8:6

Ramon Hall circa 1945-1947

Box-folder 8:7

Muriel and Ramon undated

Box-folder 8:8

Family and Friends 1942-1947

Box-folder 8:9

Unidentified Family and Friends undated

Box-folder 8:10

Unidentified Friends circa 1940s

Box-folder 8:11

Photographs Pulled from Diaries