A Collection in the
Special Collections Research Center
Accession Number Mss. Acc. 2009.265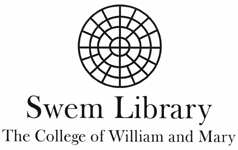 Earl Gregg Swem Library, College of William and Mary
Special Collections
Earl Gregg Swem Library
College of William and Mary
Williamsburg, Virginia 23187-8794
USA
Phone: (757) 221-3090
Fax: (757) 221-5440
Email:
spcoll@wm.edu
URL:
http://swem.wm.edu/scrc/
© 2012 By the College of William and Mary. All rights reserved.
Repository:
Special Collections Research Center
Identification:
01/Mss. Acc. 2009.265
Title:
Farm Diaries (Virginia) 1923-1944, 1954
Quantity:
1.20
Alternate Extent Statement:
22 Vols.
Creator:
arrangement
Language of Materials
The papers are in: English
---
Conditions Governing Access
Collection is open to all researchers.
Conditions Governing Use
Before reproducing or quoting from any materials, in whole or in part, permission must be obtained from the Special Collections Research Center, and the holder of the copyright, if not Swem Library.
Preferred Citation
Farm Diaries (Virginia), Special Collections Research Center, Swem Library, College of William and Mary.
Acquisition Information
The materials were acquired by Special Collections Research Center on 06/09/2009.
Processing Information
Accessioned and described in June 2009 by Ute Schechter, Warren E. Burger Archivist.
Twenty-two diaries kept by unidentified farm owner or manager for the years 1923-1944 and 1954. Entries are mostly brief and note daily weather and chores performed on the farm, which employed 6-8 men year round and up to 60 on the orchard during picking season. Most entries give the full names of workers employed each day and broken down by task.The identity of the farm and location have not been positively established at this point: The seller notes that the farm was assumed to be Bocock farm located in Albemarle County near Stony Point and Burke Hills farms; entries mention trucking apples to Keswick and Charlottesville. An 8 November 1935 funeral note mentions that the deceased was a 'gardener at Castalia.'
Genre/Form of Material:

Diaries

Topical Term:

Agricultural laborers--Virginia
Farm management--Virginia--History--20th century.
Farms--Virginia--Albemarle County.
Orchards--Virginia.
---
box: 5
Diaries
1942-1944, 1954