A Collection in the
Special Collections Research Center
Accession Number Mss. Acc. 2009.306, 2011.114, and 2011.127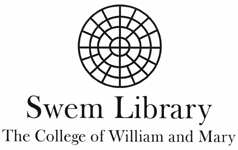 Earl Gregg Swem Library, College of William and Mary
© 2012 By the College of William and Mary. All rights reserved.
Repository:
Special Collections Research Center
Identification:
01/Mss. Acc. 2009.306, 2011.114, and 2011.127
Title:
Robert R. Bramlett Papers 1966-1967
Quantity:
0.80
Creator:
Bramlett, B. R. arrangement
Language of Materials
The papers are in: English
---
Conditions Governing Access
Collection is open to all researchers.
Conditions Governing Use
Before reproducing or quoting from any materials, in whole or in part, permission must be obtained from the Special Collections Research Center, and the holder of the copyright, if not Swem Library.
Preferred Citation
Robert R. Bramlett Papers, Special Collections Research Center, Swem Library, College of William and Mary.
Acquisition Information
The materials were acquired by Special Collections Research Center on 07/22/2009.
Processing Information
Accessioned and minimally described in July 2009 by Ute Schechter, Warren E. Burger Archivist. Arranged by Alex Dodd, SCRC Staff, in September 2009. Updated in March 2011 by Benjamin Bromley.
B.R. Bramlett was marine sergeant stationed in Vietnam. He was an MP, and later brig warden, at Phu Bai and Danang after being in the infantry. He was in charge of imprisoned American soldiers as well as Vietnamese prisoners of war.  Further information about this individual or organization may be available in the Special Collections Research Center Wiki: <a href="http://scrc.swem.wm.edu/wiki/index.php/B. R. Bramlett">http://scrc.swem.wm.edu/wiki/index.php/B. R. Bramlett</a>.
This collection is composed of letters from B.R. Bramlett to his wife written while on active duty with the Marine Corps during the Vietnam War, 1966-1967. Topics include everyday concerns for his family at home, and descriptions of his military duties.  In describing racial tensions between the black and white American troops Bramlett labels the black troops repeatedly as 'trouble makers'. In each letter he expresses his love and devotion to his wife and children, and often writes about worrying that he has left his wife with difficult responsibilities, such as getting the car fixed, dealing with household problems, and caring for two young children. The collection includes some letters to Bramlett from his wife, who frequently reassures him that she and the children are doing well. In several June 1967 letters, Bramlett advises his wife on paperwork regarding her pending United States citizenship.
Arranged chronologically.
Genre/Form of Material:

Letters (correspondence)

Topical Term:

Race relations--1960-1970
Vietnam War, 1961-1975--Personal narratives, American
---
box: 1
box: 1 Folder: 1

Letters

January 1966-November 1966
box: 1 Folder: 2

Letters

December 1966
box: 1 Folder: 3

Letters

January 1967
box: 1 Folder: 4

Letters

February 1967
box: 1 Folder: 5

Letters

March 1967-April 1967
box: 1 Folder: 6

Letters

May 1967
box: 2
box: 2 Folder: 1

Letters

June 1967-July 1967
box: 2 Folder: 2

Letters

August 1967
box: 2 Folder: 3

Letters

September 1967
box: 2 Folder: 4

Letters

Octobe 1967
box: 2 Folder: 5

Letters

November 1967-December 1967